And where did December come from, eh? Every year it just seems to come from out of nowhere, pounce on our backs, dig its incisors into our necks and shake us like a terrier to a rat?
No? Just me, then?
That's right. I see you shrugging meekly over there. Takes you by surprise, too, doesn't it?
Well, here we are now, barely more than a week from a whole new year and all that it will bring.
Roll on 2015? I think so.
News
Right, news.
Not a lot, other than that I now have an approximate release date for WARRIOR'S TOUCH, which is Spring (that's Autumn for us Southern Hemisphere-ites) 2015. Before you get too excited (I saw you), I feel a need to caution that it will probably be late Spring/Autumn, especially when we consider that my cover artist won't be available until March as it is. But at least we have something to aim for. And between now and then there will be cover reveals and other marketing ploys to get us all excited and stuff …
Writing Progress
So, MAGICIAN's TOUCH grew to over 10,000 words…
And then I had an attack of "that wouldn't happen" and cut some 1,500 words. Then I had an attack of doubt, combined with the pre-Christmas rush, then a child home sick … and things stalled again. However, I have since set up a handwriting draft in OneNote (which does a not too shabby job at converting to text, and is what I'm using to compose this blog post — I'll format later). I find sitting down to handwrite more soothing, and therefore more conducive to creative thought, than typing. I fell in love with the act of handwriting long before a desire to make things up. So it's always been my major draw to writing. I also enjoy the benefits of computers. So now that we can directly handwrite into reasonably affordable PCs (although, it's always appreciated when they get cheaper …), I'm pretty happy. It suits my work style perfectly.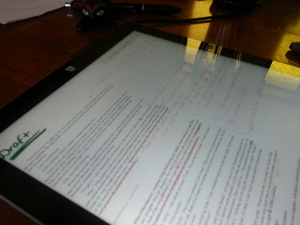 So, am I back over 10,000 words? I actually don't know. I haven't transferred anything back to Scrivener. But, I would suspect so.
Non-writing Progress
News on something that slipped into my Writing Progress section last month …
Gigatown. We won!!
Yes, indeed, Dunedin is now officially New Zealand's Gigatown, although the fast internet doesn't get turned on until March next year. Still, we won, and I'm looking forward to seeing what that really means for my home city over the next few years.
But…
Not only is Dunedin New Zealand's Gigatown, we are also — perhaps more importantly — New Zealand's UNESCO City of Literature, which means this is a great City for writers! Oh yeah. I knew it. But now everyone does, too!
Dunedin. It really is all right here (o;
Drawing-wise, I haven't managed to fit much in. I did identify a not too spoilery line from WARRIOR's TOUCH that could work well as a meme, and began a new Llew sketch to match.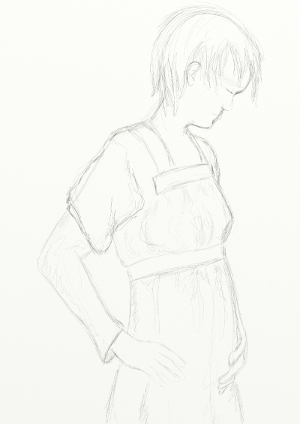 But, as usual, I haven't had a heap of time/energy to develop it so far. Guess we'll just have to play it by ear a bit while Mr 4 is off daycare for the next three weeks (only the first two of which I have off the office job).
I had a bunch of fun taking part in #nzsecretsanta this year. Apparently it's been going for quite some time, but this was the first time I heard about it. It's for New Zealand players only, so I highly recommend you investigating something similar in your Country, State, or City. Just check out that hashtag. So much joy and displays of unbridled kindness. Oh, sure, there were a few that let the team down, but overall it was a great success, I believe. I loved making my Secret Santee super dooper happy. And I got a lovely gift from my Santa.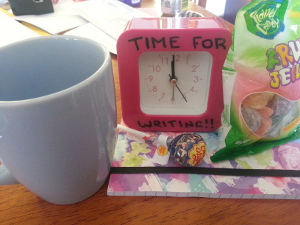 What I've Been Reading
As mentioned last month, I'm still going on The Golden Compass. I just don't get the time to read paperbacks that I'd like. Also, the writing style doesn't completely suck me in, so reading it feels like work.
I have barely returned to The Name of the Wind, either, for the same reason.
I finished Catching Fire. I enjoyed it well enough.
Then I had a go at something completely different. Honey by Jenna Jameson and Hope Tarr) caught my eye because I am aware of JJ's career, so I was curious how this translated to a literary endeavour. I don't know how much of the actual writing JJ herself does in these books (apparently there are a couple of others) but the writing style on this one was good by my standards. It was in close third-person which works well for me. It was an easy, light read with a few "naughty" scenes. It focused on the relationships and sex, of course, so it just got a bit silly when the FBI got involved, but I accepted it for what it was.
If you've ever been curious, I'd test the waters here before 50 Shades (although, I admit to never actually reading that series, so I shouldn't judge). I didn't expect much and found this an enjoyable enough read given that expectation.
Next came Aprille Legacy's Soul Blaze, book two in her Soul  trilogy. I feel that Aprille has a very fertile imagination.  In this case, I felt she could have benefited from the services  of a couple of  editors (expensive), or at the very least several excellent  Beta Readers (hard to find). There were places where the characters didn't  react as I would have expected (but I am only one reader)  and there were a few  opportunities for raised tension that  I felt were missed (but, again, I'm just me). That being said,  I still feel that Aprille is a young writer to watch. that  imagination is straining at the seams. Just  watch.
Currently, I am reading Sam Sykes' The City Stained Red. I've enjoyed Sam's Twitter feed for a while now, so I figured it was time to give him some money. I found the opening fully engaging, and I love the races he has created. I feel a little at sea at the moment with much I don't fully understand going on, but I often get that with fantasy. It usually comes together in the end.
The reading is going slowly at the moment, so I doubt I'll begin anything else this year.
Beyond reading, I have loved being able to start watching movies with my son this year.
I've enjoyed Disney's Planes over and over and over and … you get the idea. Then there were the Youtube videos of crop-dusters… especially that 14 minute one with that crap awesome music that sounds like a combination between Part Time Lover and Walking On Sunshine causing my brain to hurt trying to separate the two songs out. Great movie.
Then he got into Iron Man. I hear Iron Man 3 is good, but Mr4 only really likes the end of Iron Man 1 and the whipping fight scene in Iron Man 2, and the only movie I've seen right through is the first one. I like it well enough, but gosh, one major female character and she is, on the whole, lame… hmmm.
Note: Mr 4 has requested an Iron Man costume from Santa. Gonna nail it this year!
Anyway, remedied that sexual bias by picking up Disney's Frozen on Blu Ray when it was on special. What a neat story with some great messages. I'm a fan. I don't even mind including singing along to Let It Go as part of our bedtime routine (that, and Trucker's Hitch).
We took Mr 4 to Planes 2: Fire and Rescue at the movie theatre for his 4th birthday – his first trip to the movies. He, of course, loved it. Santa will give him the Blu Ray for Christmas.
A movie I wanted to see when it came out but couldn't because small child was Dreamworks' How To Train Your Dragon. I remedied that last week. I'm in love. For once I want my son to watch something over and over. Either movie (1 or 2), or both, I don't care. I love it.
And, I may now want a pet toy dragon for Christmas …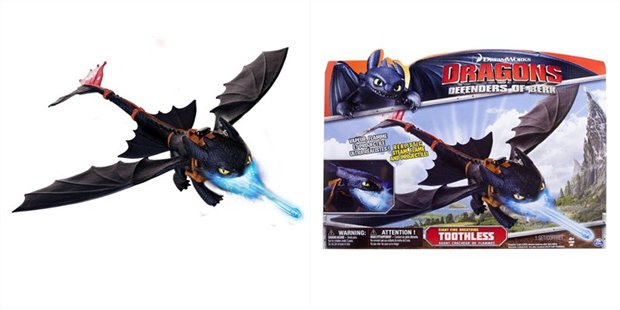 Coming Up
A Christmas that centres around absolutely spoiling rotten one 4 year old.
A bit of a New Year shindig, I imagine.
Back to work.
Writing.
Drawing.
Editing.
Marketing …
While I'm here I'd just like to thank those of you on this journey with me. It's not fast. It's not riveting a lot of the time. But I think it is taking us somewhere that I hope will be as fun for you as for me (hopefully more, actually).
I hope, despite the world's troubles, you've had a pretty fabulous year.
May 2015 be (even) better.
Thanks for being here. I appreciate it.