Quick links: Book details | Buy info | Goodreads | Sample chapters | Playlist | Reviews

"They want your sons."
"My–? But I don't… ew!"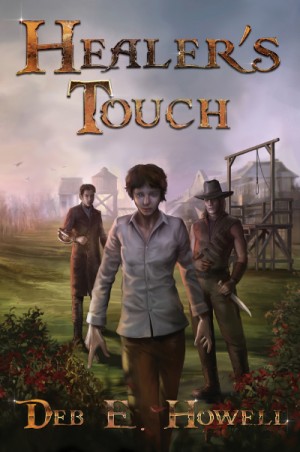 Llew has a gift. Her body heals itself from any injury – but at a cost to anyone nearby.
After dying and coming back, Llew drops from the gallows into the hands of Jonas: the man carrying the knife with the power to kill her – permanently.
The last of his warrior race, Jonas is haunted by memories of his loved ones. At his side, the cursed knife that took their lives acts as a cruel reminder of his pain. Jonas has learnt the hard way that caring for others means their death.
Jealous of his half-brother's celebrated strength and speed, Braph has created the device that gives him the power to perform magic, any magic. But it needs fuel – the blood of a healer…
Healer's Touch is a fast-paced mix of fantasy, steampunk and Wild West adventure – and even a dash of romance!
---
Book Details
Publisher: Kristell Ink (part of Grimbold Books)
Date: 29 January 2013 (2nd edition: June 2013)
ISBNs:
ISBN 978-1909845060 (paperback)
ISBN 9781909845084 (EPub)
Amazon ASIN: B00DJE8NSK
---
Quick Buy Links
Amazon US // Amazon UK // Amazon Aus // Barnes & Noble  // Book Depository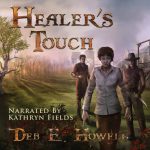 .
Also available in Audio via Audible.com
.
.
---
Goodreads
Discuss and review Healer's Touch at Goodreads
---
Sample Chapters
---

A Healer's Touch playlist based on the music I listen to while writing…
---
Reviews & Praise:
"There isn't a dull moment in the story, with the action starting from the first page." — Jo Toon, Science Fiction & Fantasy Association of New Zealand (SFFANZ)
"It has been a while since I rated a book 5 stars for more than the fact that I liked the story… but I have to say Healer's Touch was definitely a truly well earned 5." — Miz Reader (Book Blogger).
"Deb E. Howell comes out swinging!" — Craves the Angst Book Blog
"Howell is only scratching the surface of her writing talents and worth watching as the series develops." — Noor A. Jahangir
"Healer's Touch brought very real, very wet tears to my eyes on several occasions, and this is one of the signs that let me distinguish between good authors and great authors. …I really felt this book." — Hypervorean Book Blogger
"From the first chapter Llew grabs hold of your heart and you are there fighting with her." — Eclipse Reviews
"…an epic fantasy adventure and is a tiny bit reminiscent of an Eddings book…" — Lost Inside The Covers Review Blog
"Healer's Touch Delivers Transfusion of Originality to Fomulaic Fantasy Genre" — Author Dean Lombardo
"…a must read for all fantasy lovers especially those looking for a new slant on the genre." — Amazon Review
Top of Page