I started writing this on my Facebook Page, and then I remembered that I really, really needed to post something here. So… here's the goss:
Quiet me…
I've been full up with a cold over the last month (actually 2 colds… I was nearly over the first when the second struck) and, of course, I'm still full up with baby. And so, when I haven't been doing the things I need to do in life (office job, house work, childcare, midwife appointments, scans, obstetrician appointments…), I have been sleeping (or coughing).
Somewhere in there, I strained an abdominal muscle (better now), and now I'm just working on clearing the last of the gunk from my lungs.
Our house is on the market… Not sold yet, sadly, but neither has anyone whisked the other house out from under us (the vendors have a "cash out" clause, so if they get a better offer than ours they can take it… unless we can pay right then), so all fingers still crossed. The vendors for the house we want were planning to restart an advertising campaign around now, though, so… eep! Nervous times.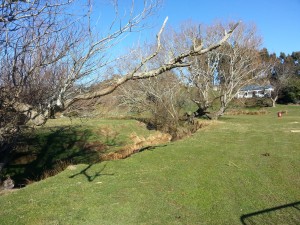 The struggle we have is that even though we'd love a swift sale (therefore, a low price would be ideal), we are constrained because we simply can't afford to grow our mortgage by too much… We're already taking a financial risk just contemplating moving. But… mental health vs. financial health… Hopefully we can achieve both. And I need more space around me. And horses.
Aaaand… my baby has a mid-November due date… and tomorrow (NZ time) is November… And the pressure is on. My first son was born via c-section after several days of labour, so, of course, another c-section is very much on the cards. For the sake of quicker healing after, though, I'm aiming for VBAC (vaginal birth after c-sec). However, the hospital is watching me closely. I have another large baby in me, and if he goes past due date + 10 days, the hospital won't risk artificially inducing me (which I don't like the sound of anyway) because the added stresses introduced would put me at risk of rupturing my scar, so they would be pressing for an "elective" c-section at that point. Hence, pressure: on. Come on, baby. Feel free to come early (I have had to make peace with still being in this house when he arrives).
Needless to say, the creative juices are not flowing. This happened in my last pregnancy. I wrote very little of Healer's Touch in the year I was pregnant with my first son. But I got back into it the following year, as I was up at interesting hours with a silently feeding baby, which allowed my mind to wonder, and then  that baby slept for two decent chunks of the day, which allowed me to write. Obviously, things will be different this time, with an older child already, but he is 5 now, so he has school (o:
Both Warrior's Touch and Magician's Touch are in limbo at the moment. I have ideas floating in my head for how to tackle my editorial letter for Warrior's Touch, but I won't likely be actioning those until the new year. My apologies. Of course I want to get these stories out to you (which would help me a–very–little financially while I'm not working, at the very least… but, come on… I've created something and I can't wait to share it and–hopefully–you'll love it, but I don't know until you guys have it in your hot hands…).  I can't wait… but I have to. I have to get it right.
And, then I've been a little bit naughty as I simmer ideas for a whole new project to come after Magician's Touch. Which, I guess is a good thing. If you like my writing, hopefully you'll like more stories by me. But, if you just want to conclude this series, that might make you a tad grumpy. Don't worry. The next project is very much just a collection of jotted thoughts for now. I won't allow myself to actually write any of it until a decent 2nd or 3rd draft of Magician's Touch is winging it's way to Kristell Ink. So, never fear, I'm doing what I can.
At least next year, while I'll have a new baby and (hopefully) a lifestyle block to get my head around, I'll have some breathing space from the office job. More of my headspace, while I do the not overly mentally stimulating work I need to do, can go to my fiction. Woo!
Right. Well, that's a bout it from my brain today.
Time to get on with nibbling dates and pineapple.