Hello team!
Grim Cat (one of the cats that run the Grimbold Books show, don't ya know) has come up with some questions to ask the authors of Grimbold. Bold Cat may have added some thoughts. Today, I am hosting the interview with Jennifer Lee Rossman, who has a new book coming out at the end of May, although you can get a hold of ARC copies now. Read on to find out how…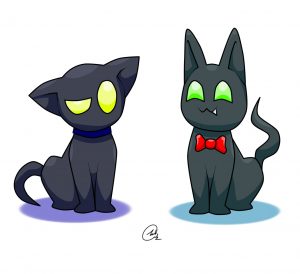 So, this story you've written. What's it about? Why should I interrupt my nap-time to read it?
Anachronism is about a time traveler and a gay teenage girl (who happens to be the future President of the United States) who go on a road trip to stop a nuclear war. It's funny and there's a twist at the end that is very clever, if I do say so myself. And you can always nap ON the book like my cat does.

Where do you get inspiration? Where did the ideas for your latest novel come from?
I can't tell you where the idea for this book came from without spoiling the ending, because the twist was the inspiration. But usually it's music, or me watching a show and saying, "This could have been better if they did this or that instead…"
What are your plans to conquer the world?
I'm going to plead the fifth on this one. (But time travel is involved.)
What research rabbit-holes have you been down while writing? What was the most interesting, or the most tedious?
An entire chapter of Anachronism was inspired by a research rabbit-hole about the Gateway Arch. And I also learned how to evade police chases and how to take care of a bullet wound.
How often do you provide a cat sleeping spot- I mean, write? Do you have a comfy chair and a routine, or do you freelance cat-nap style?
I write as often as I can, but my wheelchair doesn't make for the best napping lap, or so my Sulley tells me. He naps on me while I read instead.
When you're not writing, what do you spend your time doing? Besides looking at cat pictures on the internet, obviously.
I do analog pixel art, also known as cross stitch. I also draw a little bit. (I did the interior illustrations for Anachronism!)
Is there anything you've read/seen recently that would be worthy of my attention?
I'm very eagerly awaiting the release of Claudie Arsenault's BAKER THIEF
If you kindly brought your human a present, and they scream and tell you that they don't like dead mice – that's just rude, isn't it?
I think it's rude to bring dead mice home. LIVE mice are a much funnier present.
Cats. Fabulous, or completely fabulous?
Yes.
Bold's bow tie: excellently stylish, or rather dashing?
Stylishly dashing.
On a scale of 'excellent' to 'needs more practise', how good are you at giving ear scritches?
Need more practice on the ears, but my cat says I'm great at chin scritches.
By the way, I left you a present behind the chair. I hope you like hairballs.
Next time, bring me a mouse.
---
Bio
Jennifer Lee Rossman is a science fiction geek from Oneonta, New York, where she crochets, watches Doctor Who, and threatens to run over people with her wheelchair. Her short story Scrapefoot is featured in Circuits & Slippers anthology of sci-fi fairy tale retellings. You can find her blog at https://jenniferleerossman.blogspot.com/ and Twitter at https://twitter.com/JenLRossman
Link: https://amzn.eu/9QNW4Zo