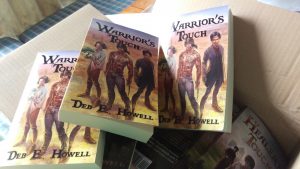 Hi!
I forgot I should probably write something here…
Warrior's Touch went live on Sunday (2nd September 2018). I can see it on Amazon for Kindle.
Kindle US | Kindle Australia | Kindle UK
I'm still waiting for it to show up elsewhere (it's meant to be a wide release, not exclusive, but there we are…). And, Amazon doesn't have the paperbacks listed, yet… not sure why. I am following that up.
As for audio, Kathryn, who did Healer's Touch, is keen to work on WT (yay!), which is lovely, because neither of us are getting rich off it at this time (dreams of one day…?). So, I just need to co-ordinate with the powers-that-be and get that ball rolling, too.
So… it's a THING! It exists!
And, at this time, I still LOVE this book! I do. I'm pretty chuffed with how it's turned out.
Now I just need to keep some confidence in where I'm going with Magician's Touch, and get it done and out to you all asap!
—
EDITED to add more links: Kobo, Thalia, Barnes & Noble
For all the details, check out the Warrior's Touch Page
—
The ultimate betrayal exposes a new enemy and forces Llew and Jonas to choose their loves, loyalties and allies.
Once upon a time, the last Immortal lost his powers to an Aenuk Healer and her tree. Nine hundred years later, he learns that an Immortal child is going to be born, and with it, the chance to regain his lost magic…
The Kara and Aenuk races have been enemies for centuries, but for Llew and Jonas, love won out. Now Llew faces an uncertain future: one nation wants her to breed their future army, and the other wants her dead. Her Healing talent also means she is feared – and the child she carries makes her a target.
Jonas has returned to his people, but he is torn. The woman he loves is being kept away from him, his superiors want him to carry on his bloodline with an appropriate mate, and he's being expected to fit back into a role he doesn't want. He is meant to be a hero, but the only champion he wants to be is Llew's and their child – a child who might change everything.
But for their enemy to regain his powers, Llew's child must die; and in order for him to retain them, every Aenuk must be destroyed.
In Warrior's Touch, loyalties will be tested, lives torn apart and magics re-joined.