Hi all.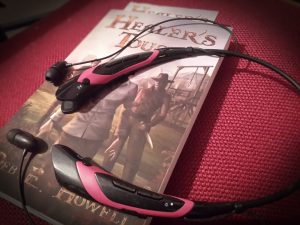 Long time no blogging. That would have a lot to do with having a baby and a 5-year-old, as well as moving house.
As always, I'm tired, so this will be brief.
What I would like to share is that I am currently listening to voice actor auditions for reading the Healer's Touch audio book. There are a… few… to get through, so it may take some time. That's not to say I'm not keen to hear some more. Auditions have been open for over a year, but audio books took a backseat for a while there. You see, not only am I raising children and doing other work to bring in a penny (actually, right now I'm fully off working a day job, but we won't be able to maintain that for too much longer), but so is my publisher and many of my fellow authors. We do this because we love it. Don't get me wrong, we all dream of our writing supporting itself, but we do it regardless.
That's one of the exciting things about delving into audio. It opens up a greater audience and, yes, a greater potential income stream.
The other bonus is that an over-tired mum can listen to auditions. It's way easier than editing. That being said, editing Warrior's Touch is still my number 1 priority when the stars align. And even when they're just, kind of, almost approaching alignment. It makes me feel as if I am achieving something when I otherwise might not.
Anyway, if you happen to come across this and happen to be a voice actor, feel free to put in an audition and I'll see if I like it. It's hard to put a deadline on it at this stage, but I would say it's drawing close. Perhaps in a week or two I will have narrowed down the current choices significantly. So, if you want to get in there, get in quick.
And to all the voice actors who have already put in an audition: Don't be offended if I don't pick you. I'm having to put on my super brutal judgy pants to do this, otherwise I'd never pick. It's amazing hearing all these beautiful voices. Some I love for how smooth they are. Some are quite sultry. Some are wonderful at taking on a different 'voice' for different characters (they do get my attention). All are appreciated for the time and interest you have taken in my debut novel. As always, I feel blessed.