Hello!
I thought it might be nice to see in the New Year by having a look back at the old first.
Looking back at my Goodreads stats, 2018 was my biggest reading year ever, with 34 books recorded as completed. It may or may not be completely accurate, but it's a good start. Given that life has also felt at its most full over the last 12 months, I'm pretty chuffed with that. I had a 2-going-on-3 year old at home full time with me for most of the year, and that's about the age when they become properly hard work. They develop their own interests which don't necessarily align with your own, and you end up spending hours each day playing with Hot Wheels cars when you've got a long list of chores to get through, too. And then there's work, home admin, the other child to support, entertain, and generally look after, and all the other things that make life feel full. But I always make time for some reading each day. Even if I only get through half a page before falling asleep at night. I still read.
My total from last year was boosted by a couple of things: I read a lot of short stories/books, and I read some great fiction that really pulled me in and kept me hooked. It's so easy to read LOTS when you find books like that.
What Did I Read?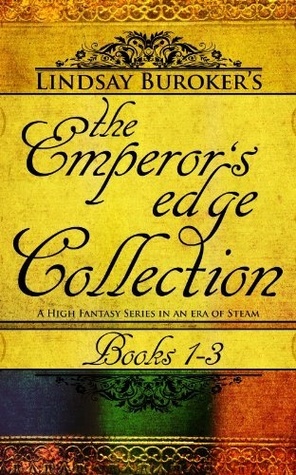 When 2018 started, I had just completed reading the first seven books in Lindsay Buroker's Emperor's Edge series (in less than a month, while my children were home on holiday…). So, of course, I went straight onto reading Book 8: Republic. Republic isn't part of the initial series, and the romantic story arc with its fantastically drawn out sexual tension is completed. However, I still very much enjoyed Republic, and I adored the cover. Never have I found a neck quite so sexy. But, I suspect it had a LOT to do with the character attached to it. Sicarius is quite yum.
Still not having had enough of Amaranthe and Sicarius and their merry band of helpers, I went back and read several of the linked short stories. Some we "unnecessary" to the overall series, but quite fun, while others filled in gaps in the narrative of the bigger books. Then I went on to book 9 in the series: Diplomats and Fugitives. Again, the major story arc of the first 7 books is closed by now, but this is a worthy read for those not quite ready to let the characters go.
Still loving Lindsay Buroker's writing voice, I went onto her Science Fiction series Fallen Empire, another 7-book-plus-additional-shorts series with a strong romantic/sexual tension storyline. I really enjoyed it, though I still maintain my biggest soft spot of Amaranthe and Sicarius.
Other books I read and enjoyed included N.K. Jemisin's The Fifth Season, which I thought was really clever and enjoyable overall. I do plan to return to the series some time. I finally got around the reading books 2 & 3 of Paige Daniels's Non-Compliance series and imagine they will appeal to many readers interested in dystopian scifi, with a dash of romance.
I actually went back and read Emperor's Edge again nearly halfway through 2018… the first 7 books plus the essential short stories, in order.
I was intrigued by the way the wolf brain could influence the human brain in the werewolves of The Complete Bloodling Serial by Aimee Easterling and I went on to try Shiftless (the first in a related series).
I read The Locksmith by Barbara Howe when I found her beside me in a list of New Zealand authors. It was a little outside of my usual more epic fantasy, but was quite a nice light romance in a fantasy setting.
Finding her amongst a list of New Zealand authors, I tried Jayne Castel's Ruled by Shadows. Wonderfully enough, it turns out she's not just a New Zealand writer, but a Dunedin one! I didn't know that at the time I was reading. I loved the opening chapters, in particular, as they set the scene and established a budding romance.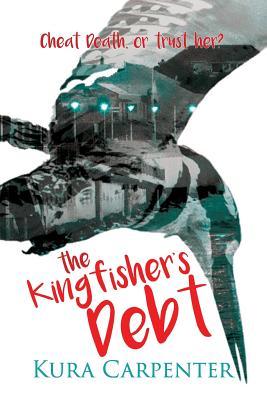 Now, I'm going to come over as biased because I've known Kura Carpenter since the end of 2011 when I met her at a local, Dunedin writers group, but I really, really enjoyed her debut novel The Kingfisher's Debt. It's an Urban Fantasy set in Dunedin, New Zealand, which is really cool. And it's got everything you'd expect from an UF book: warring tribes/families, a who-done-it crime, magic that flies under the radar of most people in the world, a dash of romance… As well as having things you'd expect from a New Zealand story: dark comedy, and snark. Carpenter writes the best snark I've read in ages. And I'm not just saying that. I was genuinely impressed by the character voices in this tale.
Now, somewhere throughout the year, I read Warrior's Touch at least twice, I think… It was due for release (though I didn't know when until the end of July), and it was getting its final proofread, as well as me just wanting to be ready to say I still thought it was a good book (in my opinion… which you can judge based on what I've said above, I guess). And I do still like it, even after reading I don't know how many times over the last five years. Also, having made some fairly major changes to it over the years, I wanted to get its final form more locked-in, so I don't get muddled between versions.
I started a few other books over the year, and I think I may have been spoiled by The Emperor's Edge series, because I was seeking that same love for the characters again and again, and couldn't find it! So, I have several books I've started but haven't managed to finish. Some I plan to return to when I feel more ready for the kind of book they are, rather than the kind of book I'm currently seeking.
What Else Happened In 2018?
You may be aware that Warrior's Touch was released into the wild in September. If not… Well, where have you been?! So, that was exciting and disappointing, as the reality of being in the early stages of a writing career often is. It's lovely to finally see my book in print. It's hard dealing with all the silence afterwards and the "Oh, I haven't read it, yet…" That is a mental challenge. Reality check: no one is as excited about your book as YOU are. It's easier to make a baby (although, more life-threatening, so there is that)… and you'll get a lot more Facebook love!
What was rather exciting (and scary) was that with the release of mine and Kura Carpenter's books only a month apart, we joined forces to do a little local promotion. In doing so, we brought together eight Dunedin-based Speculative Fiction writers for an introduction and reading session at the Dunedin Public Library called Genre-8. I was a ball of nerves, but I survived! It was as eye-opening for us as for those who came to see us to learn just how many others are beavering away at fantastic tales within this small city (of about 120,000 people) rightfully recognised as a UNESCO City of Literature.
And from that event, a new group has been born, called the Dunedin Speculative Fiction group, with the goals of working together to support each other and help promote each other with the eventual goal of world domination mwahahahahahaha… Well, the idea is that together we can fumble less in the dark and take a more purposeful stroll through the depths of Fantasy and the other speculative fiction genres (and crosses). Writing may be considered a solo venture, but the old saying of no man (collective version that encompasses all genders) being an island applies in every endeavour. Together, we pool a wide range of experience and knowledge that we can share to build us all up in this extremely challenging career called Author of Fiction.
What 2019 Holds…
My youngest is off to kindy four days a week, now, so I get to have alone time for significant parts of those days. There are still plenty of things to fill up those hours. For instance, it is much nicer, and cheaper, to go to the supermarket alone, that takes up time that could otherwise go into writing, but so be it. And I do still have a "day job" to help pay the bills. However, since my writing brain is more likely to work during daylight hours, I'm trying to use my day hours for writing, and I do the "day job" after the kids go to bed at night (I'm very lucky to have a work-from-home bookkeeping job to help keep us afloat).
Anyway, my point is… I have more writing time this year than I had last year. So, yay!
What I'm Currently Reading…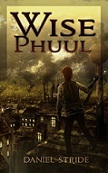 Wise Phuul by Daniel Stride, who also happens to be a Dunedin, New Zealand-based writer of Fantasy fiction, and a member of the Dunedin Speculative Fiction Group. This is a classic fantasy tale without the romantic fluff some of us can't get enough of, and I'm enjoying the wit and cleverness of the world-building and character development. A definite recommendation to readers who love epic fantasy (again, not just saying that because I have met him in person a few times… it's very well written and I would recommend it as a worthy read).
---
And I think that's about that from me.
Do you have a reading goal for 2019? Although I think it's hard to judge success based on number of books read when many of my favourite books can be 700-900 pages long… Can't wait for the next (last?) Lightbringer novel from Brent Weeks.
What about watching speculative fiction? Most of my favourites would fall under that umbrella: iZombie, How To Train Your Dragon movies (Note: The 3rd movie came out in New Zealand yesterday(!) and I have already seen it! Barring the rather crappy experience of going to a movie theatre with people who don't respect seating allocations, the movie was satisfying… although I think I still love the 2nd one more!), comic-universe TV & movies (DC for TV, Marvel for movies in this house), and I think my all time favourite movie (to date) Rise of the Guardians (I know… kids movies are GREAT!). Story is story, I love it in all its forms.
---
Welcome to 2019. Realistically, I know it'll be a mixed bag, but I truly wish the best for you all.